How do Teachers Really feel About Family Connect Night?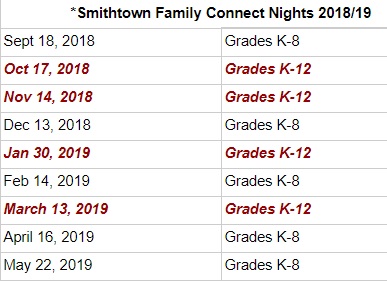 As of this year, Smithtown Central School District has included the high schools in Family Connect Night—a night in which teachers are not allowed to distribute homework or schedule exams the day after— in order to allow families to socialize.
Even though this break affects lesson planning, the general consensus was that Family Connect Night is beneficial. English teacher Ms. Kostopoulos says it's valuable as long as it's "prioritized by the families." French teacher Madame Dinapoli-Iannello agrees and says that "if students and families are using it to spend time together, it's a really great night." As math teacher Mr. Lynch is a father himself, he says that the agreement of not having work is beneficial because he knows "the struggles of a normal school night," and it's nice to have "a night that's not a Friday with no work across the board."
Overall, the teachers that were interviewed believed that getting a break was appropriate for high -school students, but Lynch brought up that "in real life you don't typically get breaks" and "not being given homework can cause anxiety." But these nights are four times a year, once a quarter, and Dinapoli says that "if there were more than that, it could become stressful for teachers and students with AP classes."
The teachers agree that there are no major flaws because "it's just one night" or "it's easy to work around." But Lynch also believes that "athletic practices, music rehearsal, play practice, or anything the kids have to do outside of periods one through nine should be cancelled across the board just like homework."
As an English teacher, Kostopoulos believes that her subject could be incorporated into relaxing things on these nights, like when "watching a movie, families could discuss character development" or "families could play games that build language acquisition like Scrabble." She agrees that these pastimes could still "promote education and keep kids on track with their schoolwork but also allow them to bond with their families."
The next Family Connect Nights, for upcoming quarters, are going to be January 30 and March 13.