Olympic Athlete Puts Smithtown On The Map!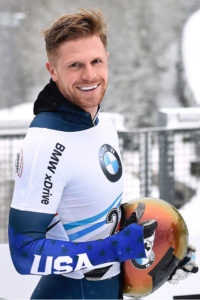 John Daly, U.S.A. Winter Olympian — Skeleton
On February 25, three-time United States Olympian and Smithtown High School alumnus, John Daly wrapped up his final round of the Olympic games as a skeleton racer.
John Daly began sliding in sixth grade after a recommendation from his middle school physical education teacher. Daly currently lives in Washington D.C., where he sells medical devices to help children with sleeping disorders. He works an eight-hour day, then trains for five hours in the evening, everyday!
At Daly's last Olympic games in 2014, he collided with a wall at the start of his fourth run. As heartbreaking as this was for the Olympian, it created a strong desire and need to finish what he started, a need for closure. Although he placed sixteenth at the PyeongChang games this year, Daly truly serves as a personal inspiration as both a successful Olympic athlete, a Smithtown alumnus, and someone who relentlessly works at his goals.
Sophie DeNicola: What's your schedule like the week before you leave for a competition?
John Daly: Our schedule one week before the Olympics is still the same: lifting, sprinting and sliding, but it's all minimal so we could peak at the Olympic Games.
SD: Were there any defining moments at this Olympics that made these games different than the past two?
JD: These Olympic Games I got to walk off and hold my head high on my fourth run.
SD: What songs are on the top of your workout or training playlist?
JD: "Wake Me Up" by Avicii, "Show Goes On" by Lupe Fiasco, and "Wrong Side of Heaven" by Five Finger Death Punch.
SD: What is your favorite pizza place in Smithtown?
JD: Mannino's.
SD: What was your favorite class in high school? Who taught this class and what made it so special?
JD: My favorite subject was math because of one teacher, Mr. Murphy. He had a profound impact on my life by just believing in me.
SD: I read multiple articles that said you re-entered this Olympic Games for closure, to what extent was this closure fulfilled?

JD: Last week, the only closure I thought I needed was waving to my family and holding my head high on my fourth run. I now know that getting a medal at the Olympic games will be the only true closure to end my career.